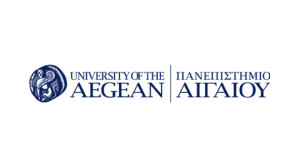 The University of the Aegean (www.aegean.gr) was founded in 1984 aiming to introduce new approaches in higher education in Greece and worldwide and to promote regional development. Situated in 6 picturesque islands in the Aegean Archipelago, the UAegean offers a unique natural, cultural and human environment for modern studies in the ancient cradle of knowledge. In less than thirty years, the UAegean has evolved into an international research –oriented University offering 18 undergraduate (BA or BSc) and 40 postgraduate (MA or MSc) programmes in modern interdisciplinary thematic areas such as environment, communication systems, cultural informatics, product design, food and nutritional sciences, education design  and Mediterranean studies. In addition, the UAegean has established joined international postgraduate programs (i.e. in Biodiversity, Environmental Policy and Management, European Integration) as well as joined PhD degree programmes in a wide range of thematic areas.   
The UAegean has created a strong international academic and research profile, having been an active member of the European Universities Association (EUA), a founding partner of the Cremo network, member of the EMUNI Senate, partner in many academic and research networks and participant in more than 210 bilateral academic and Erasmus agreements. The UAegean has received consistently excellent feedback in evaluations that have taken place at national, European and international level, as a result of the study programmes offered by the institution and its competitive research programs. http://www1.aegean.gr/aegean/en/about.htm
MIGRIMAGE involves the Faculty of Social Sciences based in Lesvos, in the city of Mytilene, through two departments. The Department of Geography of the University of the Aegean https://geography.aegean.gr/index_en.php? (1994) belongs to the School of Social Sciences and is located in the city of Mytilene (Lesvos island, Greece). The Department of Geography is the first Department of Geography in modern Greece, offers programs of undergraduate and postgraduate studies in Geography, responding to the call of our contemporary times for the academic training of scientists and professionals with geographical analysis knowledge and skills for the management of the multidimensional environmental, social and economic problems of modern societies.
The Department of Cultural Technology and Communication (www.ct.aegean.gr) belongs to the School of Social Sciences and is located in the city of Mytilene (Lesvos island, Greece). The students enrolled come from both the "Humanities, Law and Social Sciences" and the "Economics and Computer Science" field, two out of the three identified fields for the students of Greek Secondary Education by the Greek Ministry of Education.